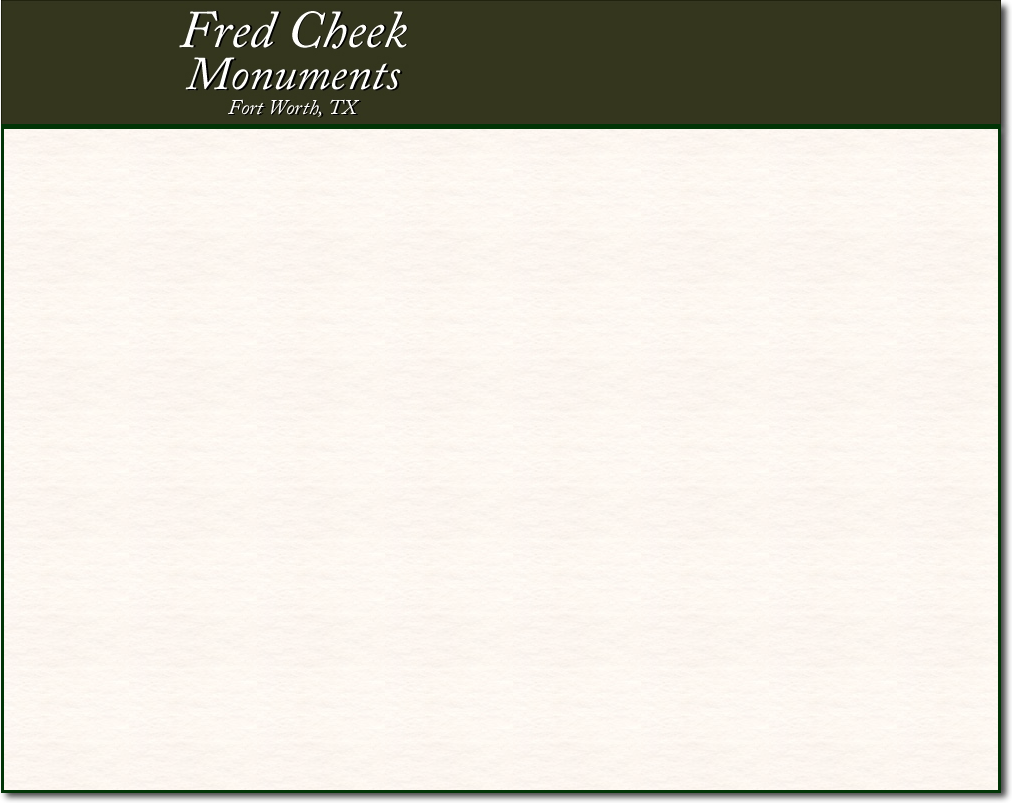 Family Owned and Operated
For over 80 years, Fred Cheek Monuments has been crafting fine memorials. Coming from Mineral Wells, Texas, Mr. Fred Cheek established the monument business in 1928. During the 60's, 70's and 80's, Rosemary and Sam Hopkins carried on the family tradition of providing creative, lasting memorials for the people of Fort Worth and surrounding areas. Now, third gereration memorialists, owners Sammie and Dennis Peters continue the business. From family estate mausoleums to ground level grave markers, we do it all. As our client, you can be sure you will deal with the owner of the company. We will be personally involved in the entire transaction from selection, design and production to the final installation or delivery. The memorial you purchase will not be handed off from person to person as is done in many large cemeteries, funeral homes, or monument resellers.
Hands On Craftmanship
Aided by computer design, each individual memorial is hand crafted with professional care by us. We design, layout, carve and inscribe your
memorial in our shop. We are not a wholesaler nor do we mass produce product for storefront only operators or other resellers. We do them one at a time, taking the time necessary to achieve the quality we demand and you expect. You can be assured we concentrate on meeting our client's needs and desires.
Great Service
How do you recognize great service? By what the person DID, not by what they SAID they'd do. We do what we say we'll do.
Ethical, Honest Business Practices
As one of the original founding firms, Fred Cheek monuments has been an active member of the Monument Builders of the Southwest since it's inception in 1945. A trade association of monument business owners across the state of Texas and New Mexico, we are bound by ethical, honest business practices. We have served in leadership positions for many years. In 1999, we were selected as Memorialists of the Year by MBSW. We are also members of the Monument Builders of North America.
Services We Offer
Family Memorials
Individual Memorials
Flat Markers
Bronze Memorials
Infant Memorials
Final Date Inscriptions
Pet Memorials
Granite/Bronze Signs
Civic Monuments
Veterans Memorials
Cornerstones
Monument Cleaning and Restoration
Ceramic Memorial Pictures
Monument Vases
Granite Benches
Cremation Urns/Memorials
Bronze/Granite Plaques
Golf Course Signage