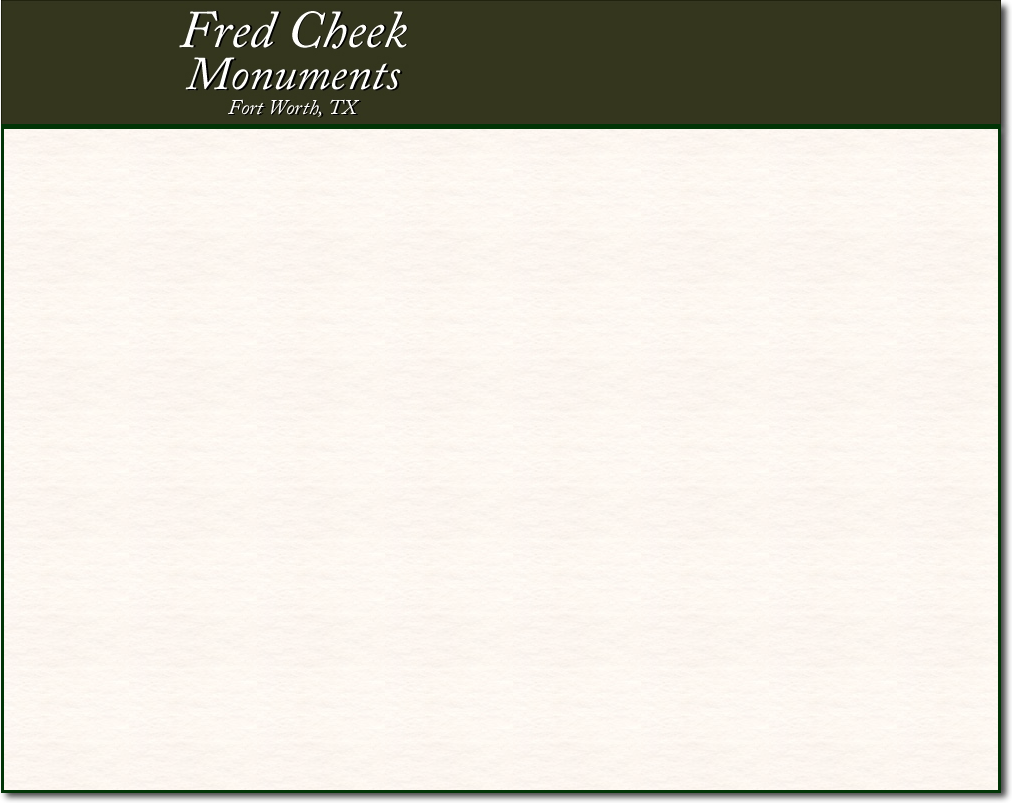 Visit our large memorial display. We have many shapes, sizes and colors available. We are located on the near west side of downtown Fort Worth at 308 Greenleaf Street off of White Settlement Road. We are near University Drive and W. 7th Street in the Cultural District and close to the nationally acclaimed Greenwood Memorial Park. Our office hours are 8:00 AM to 4:PM Monday through Friday and 8:00 AM to 12:00 Noon on Saturday. We are available at other hours by appointment. For your convenience, call to let us know you are coming.
Telephone: 817-332-2689
Fax: 817 332-5091
email:fcheek@fredcheekmonuments.com
Mailing Address:
Fred Cheek Monuments
308 Greenleaf Street
FORT WORTH TX 76107-2316
Click on map image to see other map views.

WHITE SETTLEMENT RD. IS TEMPORARILY CLOSED AT GREENLEAF ST.
THERE ARE TWO WAYS TO REACH US.
1. At the White Settlement Rd./N. Henderson St. (199) intersection, proceed down White Settlement Rd. toward barricades and turn left onto Viola St. Follow Viola St. around the curve, road then becomes Kansas St. Stay on Kansas St. At the second stop sign, turn left onto Greenleaf St. We are on the right just after you make turn.

2. At the W. Seventh St./Harrold St. intersection (near Montgomery Plaza), turn onto Harrold St. and proceed down road until you reach dead end. At stop sign, turn right, proceed one block. At stop sign, turn right onto Greenleaf St. and we are on the right side of street after you make turn.

(CLICK ON MAP IMAGE TO SEE STREET DETAIL.)